The Pragmatics Association of Nigeria (PrAN), formerly known as the Nigerian Pragmatics Association, was established in October 2017 with a secretariat at the University of Ibadan, and registered with the Corporate Affairs Commission in Nigeria. Its members are drawn from scholars and students of pragmatics and other areas of language studies, such as cognitive linguistics, sociolinguistics, discourse analysis, applied linguistics, stylistics, anthropology and communication studies. Its overall motivation is the promotion of the discipline of pragmatics within Nigeria and in cooperation with other national or continental groups such as African Pragmatics Association, American Pragmatics Association, Pragmatics Society of Japan and Chinese Pragmatics Association and the International Pragmatics Association based in Belgium.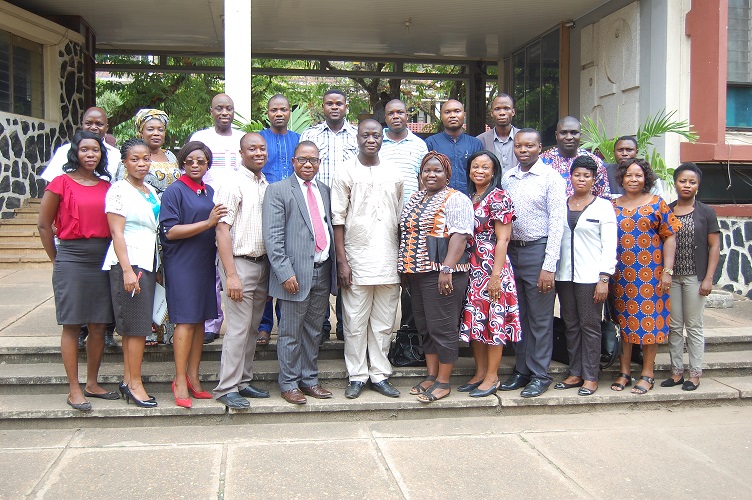 Our Objectives
PrAN pursues the following goals:
1. To coordinate and conduct research in pragmatics as a measure to promote the overall interest and goals of the discipline;
2. To encourage and support the publication of scientific works in pragmatics and allied disciplines;
3. To stimulate and develop interests and skills in pragmatics;
4. To generate and dispense knowledge in pragmatics through conferences, seminars, symposia, workshops and other scientific activities;
5. To facilitate the exchange of scientific knowledge and collaboration with professional bodies of similar interest at the local and international levels;
6. To disseminate knowledge and information through journals, websites, social media, newsletters and summer meetings
Our National Executive Committee
President: Akin Odebunmi (University of Ibadan, Ibadan).
Vice President: Rosarri Mbisike (Lagos State University, Ojo, Lagos)
Secretary General: Pius Akhimien (Lagos State University, Ojo, Lagos)
Assistant Secretary General: Ibilate Waribo-Naye (University of Ibadan, Ibadan)
Publicity Secretary: A. Ayansola (Veritas University, Abuja)
I.C.T. Officer: Ayodele James Akinola (Michigan Technological University, USA)
I.C.T. Officer II: Felix Bayode Oke (Anchor University, Ayobo, Lagos)
Treasurer: Olawunmi Oni-Buraimoh (Lagos State University, Ojo, Lagos)
Financial Secretary: Grace Olutayo (Bowen University, Iwo, Osun State)
Internal Auditor: Yinka Adeoye, Ajayi Crowther University, Oyo
Regional Representatives
North Central: Dr Joy Aworoh, Nasarawa State University, Keffi
North East: Dr Luka Barnabas Jauro, Modibbo Adama University of Technology, Yola
North West: Dr Victoria Faleke, Federal University, Birni-Kebbi.
South East: Dr Chuka Ononye, University of Nigeria, Nsukka
South South: Dr Kekai Celestina, Delta State School of Marine Technology, Burutu .
South West:  Dr Niyi Osunbade, Ladoke Akintola University of Technology, Ogbomoso.
Members of the Board of Trustees
Adewale Adegbite – Obafemi Awolowo University, Ile-Ife    – Chairman
Yisa Kehinde Yusuf – Obafemi Awolowo University, Ile-Ife
Aliyu Kamal – Bayero University, Kano
Esther Nkiruka Ugwu – University of Benin, Benin City
Shehu Sidi Ibrahim – Usman Dan Fodio University, Sokoto
Sam. Onuigbo – University of Nigeria, Nsukka
Akin Odebunmi – (NPrA President) University of Ibadan, Ibadan
Dr Pius Akhimien – (NPrA General Secretary) Lagos State University, Ojo
Members of the PrAN Consultation Board
Prof. Y. K. Yusuf (Chairman) – Obafemi Awolowo University, Nigeria
Prof. Jacob Mey – Southern Denmark University, Denmark
Prof. Jef Verschueren – University of Antwerp, Belgium
Prof. Peter Auer – University of Freiburg, Germany
Prof. Karin Birkner – University of Bayreuth, Germany
Prof. Sigurd D'hont – University of Jyväskylä, Finland
Prof. Jan Ola Ostman – University of Helsinki, Finland
Prof. Anita Fetzer – University of Augsburg, Germany
Prof. Wale Adegbite – Obafemi Awolowo University
Prof. Sola Babatunde – University of Ilorin, Nigeria
Prof. Nwoye – University of Benin, Nigeria
Prof. Surakat – Ahmadu Bello University, Nigeria
Prof. Moji Olateju – Obafemi Awolowo University, Nigeria
Prof. G.A. Osoba – Lagos State University, Nigeria
Dr A. Atolagbe – Lagos State University, Nigeria
Prof. Bayo Lawal – University of Ilorin, Nigeria
Prof. Ndimele Ozomekuri – University of Port Harcourt, Nigeria
Prof. Victoria Alabi – University of Ilorin, Nigeria
Professor Lekan Oyeleye – University of Ibadan, Nigeria
Professor Wale Osisanwo – Babcock University, Nigeria
Prof Gbenga Ibileye – Federal University, Lokoja, Nigeria
PrAN President's Speech
SPEECH OF THE PRESIDENT OF THE NIGERIAN PRAGMATICS ASSOCIATION DELIVERED AT THE FIRST NATIONAL WORKSHOP OF THE NIGERIAN PRAGMATICS ASSOCIATION, HELD BETWEEN 17 – 19 JULY AT THE LAGOS STATE UNIVERSITY, OJO, LAGOS
PROTOCOLS
The vice chancellor, Professor Olanrewaju Fagbohun
The Dean of Arts, Professor Adeleke Fakoya
The Head, Department of English, LASU
The Chair, Board of Trustees, NPrA, Professor Adewale Adegbite
The chair, consultation Board, NPrA, Professor Y.K. Yusuf
Members, Trustees and Consultation Boards
The Local Organising Committee
The National Organising Committee
The Host, Department of English
All distinguished NPrA members
All participants, including distinguished LASU students
Gentlemen and ladies of the press
It is my utmost joy to present this maiden public speech as the pioneer president of the Nigerian Pragmatics Association, an association that has hijacked its own growth from its originators. No members of this association with clear knowledge of its inception on October 31, 2017 and the second main meeting on January 24, 2018 would believe that it would have marshaled the capacity to garner this humongous audience at its premier outing. This perhaps points to a common interest of great magnitude which has remained unexpressed for the absence of a pull factor. The reality of a Nigerian association of pragmaticians is, therefore, not a honour due only to the original organisers of the group with the support of the seniors carried along most of the time of the founding sojourn; it is also a honour due to all dream-bearers of NPrA, many of whom are aboard its first landing today.
The acceptance and choice of Lagos State University (LASU) is not an accident; it is motivated. LASU played a key role in the establishment of NPrA. Although before Dr Akhimien (the general Secretary of NPrA and a lecturer at LASU) called me on phone sometime in 2015 for the need for an association of pragmaticians in Nigeria, I had, during the 2013 International Pragmatics Conference in New Delhi, India, had a chat with Prof. jan Ola Ostman, the immediate past president of IPrA, who suggested the possibility of Nigeria hosting a next IPrA conference, (the same issue I raised with Prof. Jef Verschueren -the Secretary General of IPrA), his phone call was a jolt for a concrete, significant action towards the realisation of the object of my discussion with the chiefs of IPrA. In a meeting of fate, as an Alexander von Humboldt follow-up research-stay fellow in the Professor Dr Peter Auer-led Germanistic Unit of the Hermann Paul Centre for Linguistics, University of Freiburg, Germany, I met Prof. jan Ola Ostman again spending some of his leave. Among other issues, we discussed again, at lunch table, the hosting of an IPrA conference, which was reiterated last year in Belfast at the conference of IPrA. All of these crossings mean to me a call to a higher responsibility which I had feared all the while. The meeting of the 31st of October, at the University of Ibadan, was a preliminary step towards the possibility of forming a group, and that of the 24th of January, 2018, was a definitive forum in which officers, operation types and administrative paths were decided.
Today is a testimony to one of our key decisions: to hazard an outing to draw the awareness of the Nigerian and global public to our existence. Our key tool for this plan was our website which was built with the cooperative donations of many individuals who shared our vision. True to his words, the Secretary General of IPrA placed us on the website of the mega association, making us globally visible, even in our neonacy. Other media used are social Facebook, Twitter and WhatsApp.
One preliminary project yet uncompleted is our registration with the Corporate Affairs Commission, which had been stalled, post-payment, by the argument over whether or not pragmatics, a subject of study, can associate. Our defence of our preferred name, anchored to the pedigree of IPrA, the American Pragmatics Association, the Chinese Pragmatics Association and the Japanese Pragmatics Association is in the custody of the commission for a final decision.
We appreciate the Vice Chancellor of LASU, Professor Fagbohun for his wonderful support of NPrA and the Dean of Arts, Prof. Adeleke Fakoya for providing a pillar on which we stand to have today's event realised. The crowd we have been able to draw for this event is simply consistent with the design of our logo. The Newbouldia laevis (akoko in Yoruba, aduruku in Hausa and ogirisi in Igbo), placed in the heart of the Nigerian flag, in a dominant, attractive shade of green (NPrA's colour) indicating freshness, is a symbol of fertility. The well integrated images are seated in the circular global image. These indexicate the niche of a fertile local group in the global influence, particularly as embraced by IPrA and in projected cooperation with other pragmatics associations. The projection that the group will keep expanding across times is symbolised by the bloated dots which form a half ring around the global circle. Our hope is that, we, all, would together take our noble association to greater heights.
The concern of a pragmatics association is not only academic; it is also professional and societal. Pragmatics is one of the disciplines of the Arts that can offer a lot of practical benefits to society. Apart from equipping the student with the skills for daily bread, it is capable of providing such facilities as the dexterity to launch interventions into medicine, politics, domestic life, diplomacy, religion and the media. Its theories and other professional mechanisms permit entry into the human mind, help to track communicative choices and explain the complexity of all human engagements situated in linguistic and non-linguistic acts. Thus, pragmatics becomes well suited to enhance services not only in the academia but also in the industries and other public domains where determining interactive agendas and managing intentions are desired for efficiency and productivity.
The Nigerian Pragmatics Association has the goal to ensure the achievement of all the facets of the potentials of the discipline of pragmatics. For us, the first step is to entrench the knowledge of the discipline for the benefits of students who are interested in pragmatics and scholars who desire to join the global debates in the discipline. Consequently, as a stabilization strategy for the next three years, we are planning to have two workshops, one round table and one guest lecture in a year. This workshop is the first, and it is expected to lead to such outcomes as the publication of three books from the deliberations at the workshop groups (comprising starter, intermediate and advanced groups), a stronger tie with IPrA and an upload of all the videos of the events for the viewing of all registered members.
Our technical team is already designing an interactive platform on our website which shall provide the opportunity to engage our discipline. It will enable members to ask any questions on pragmatics, and answers will be provided by national and international authorities in the field. The international level will feature all the members of our consultation board, including Professors Jacob Mey, Peter Auer, jan Ola Ostman, Jef Verschueren, Sigurd D'hont and Karin Birkner.
We have received applications and expression of hosting interest from Bowen University, Iwo, Osun State for the second national workshop in February, 2019 and University of Lagos for the first international workshop which will host, among other international giants, Professor Jef Verschueren who has promised to leave September 2019 open for this purpose. We are yet to have interests expressed for the round table and international guest lecture for 2019.
I like to express the gratitude of NPrA to all attendees for believing in us in spite of the newness of our group and our being untested. It is a blind trust, which threw shudders of possible failure into our veins. The wonderful LASU LOC has proved to be up to the task, but a few things may not be completely satisfactory due to limited funds and heavy financial incurments. This is a historical reality which we shall outgrow as we take greater strides into the future.
My appreciation goes to Professor Nana Aba Appiah Amfo of the University of Ghana whose acceptance to give the keynote lecture melted a lump of anxiety in our hearts. Nana won the prestigious place in the IPrA Consultation Board election which I too contested and lost. Her victory is victory for Africa, and we are very proud of her. Professors Charles Ogbulogo, Gbenga Ibileye, Esther Ugwu, Rotimi Taiwo, Tunde Opeibi and Innocent Chiluwa are appreciated for scouting for time to help out. And my teachers, Professors Adewale Adegbite, Adebayo Lawal, Victoria Alabi and Sola Babatunde receive my token of appreciation for believing in our ability to steer the group and for offering their elderly and all-time sound intellectual inputs to this workshop.
The Nigerian Pragmatics Association is a bourgeoning group with a strong zeal to gain greater access into the global space for the advancement of the field of pragmatics. This is a collective project, which if pursued with spirited devotion by all members in Nigeria and beyond, will seat the association in a prestigious international corner and fetch its members a golden niche in the international community of pragmaticians.
I wish you all a great time on this auspicious occasion.
Thank you.
Akin Odebunmi
PrAN's Statutes
Membership offers a lot of opportunities.
Professional Networks
Participation in our events to build academic and professional networks.
Priviledged Information
Access to information about diverse opportunities in the discipline.
Academic Scholarship
Access to current knowledge in pragmatics and related disciplines.
New Opportunities
Meet other scholars in the discipline, build collaborations and access new research.