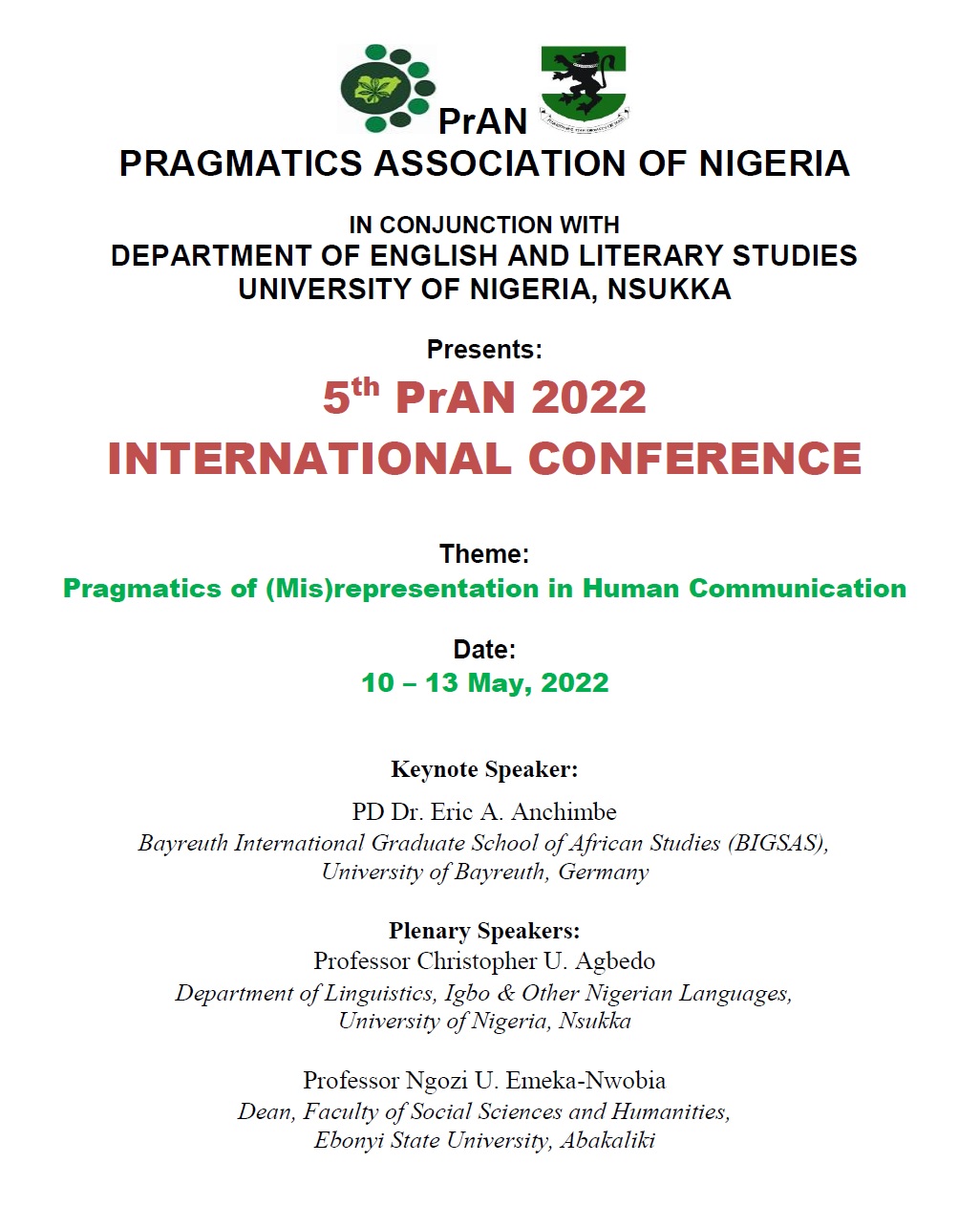 Call for Submission of Abstracts:
THEME: PRAGMATICS OF (MIS)REPRESENTATION IN HUMAN COMMUNICATION
This conference will explore the practice of (mis)representing ethnic, religious, gender, sexual, political and corporate entities and interests in public discourses, and the effect it may have on (mis/dis)informing the public. It is interested in bringing together local and international scholars from diverse disciplines to investigate the role (mis)representation plays as a resource for motivating, justifying and rationalising accurate judgement, stereotypes, social discrimination, political marginalisation, hate discourses and violence. This role raises the following questions: What constitutes representation or misrepresentation in human communication? Why is (mis)representation engaged in public discourses? How is (mis)representation constructed and disseminated?
The deadline for Early Bird registration is 15 March, 2022.
We are a body of professionals, academics and scholars in the field of pragmatics. We have a goal to advance quality research, knowledge and scientific publications in the field of pragmatics.
Professional Opportunities
The opportunities to advance your career are enormous. We build networks and form professional partnerships in the discipline. As a member, you will have access to information and opportunities for professional development, get published in our journal and benefit from other international publications.
Being a member also opens a wide door of opportunities for mentorship in research and career development for early career scholars and researchers. There is a lot more!
"Pragmatics is a multidisciplinary study of the interface between discourses and their multifarious contexts".
– NPrA
The Pragmatics Association of Nigeria is a non-profit organisation, driven by a set of objectives and core values …
Research in Pragmatics, journal of the Pragmatics Association of Nigeria disseminates research and studies in the field of pragmatics.
We want to hear from you, share your questions and thoughts with us, and we will be glad to have you on board.